As the industry's leading Shock Absorber, Steering and Suspension Specialist, Pedders prides itself on being able to offer a complete range of quality shock absorbers through its store and dealer network throughout Australia and the rest of the world. Pedders provides owners of popular passenger cars a comprehensive choice of shock absorber models from our range.
Our brands include;
Pedders Shock Absorbers series
4WD Gas TrackRyder series
4WD TrakRyder Foam Cell series
4WD Extreme TrakRyder series
SportsRyder
SportsRyder eXtreme XA Coilovers Series
You can count on Pedders to find the right shock to suit your driving needs.
How a shock absorber works
The spring-loaded valve only opens to allow the oil to pass through when enough force is supplied. This force is generated by the speed at which the shock is extending and contracting. As the stroking speed of the shock increases, more stages of the valving come into play to control the flow of the oil.

---
Pedders Shock Absorbers Series
Pedders Shock Absorbers are premium quality gas shock absorbers whose features include; precisely tuned valving, heavy-duty construction and accurate nitrogen gas pressurization. These key features deliver a confident road holding with smooth ride characteristics. Pedders Shocks, Spring seated shocks, and Struts are the ideal replacement for worn or leaking dampers.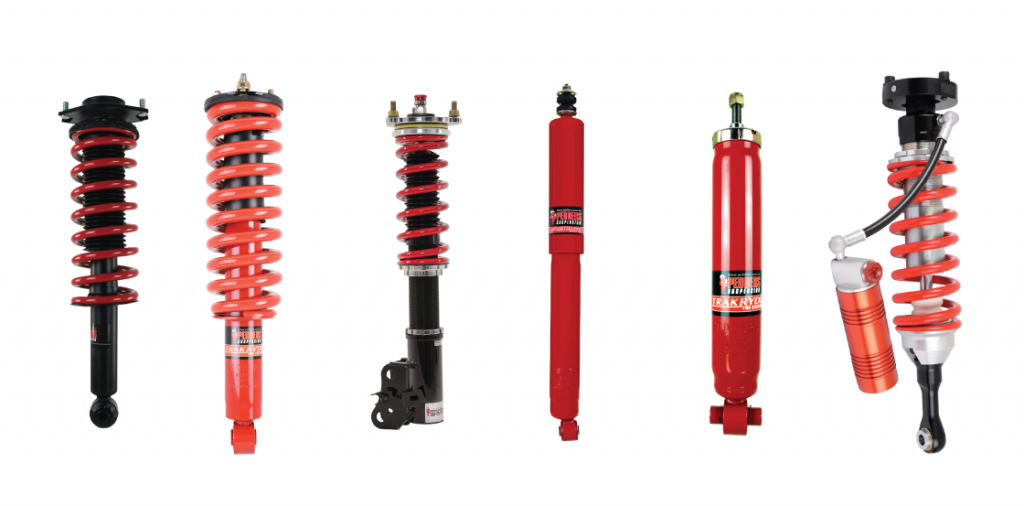 ---
4WD TrakRyder Series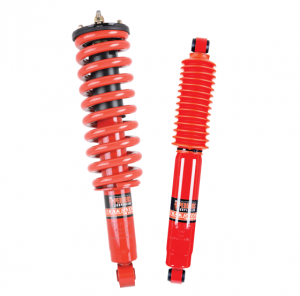 For those owners of Four-Wheel Drive vehicles, there is simply no better than TrakRyder. Two shock absorbers are available within the TrakRyder Range, Pedders 4WD Gas SportsRyder and Pedders 4WD Foam Cell. With TrakRyder shock absorbers and especially when incorporated with the other components of the TrakRyder range, 4WD owners can enjoy the best of both worlds.
The benefits of owning a 4WD plus comfort and handling more like a family SUV. Pedders' TrakRyder steering dampers enhance driving feel and comfort by further reducing the jolts and impacts that feedback through the steering wheel caused by heavy off-road wheels and rough conditions. TrakRyder steering dampers feature an extra-large 35mm bore. This provides optimum performance via the Foam Cell technology that enables the steering damper to operate at any angle.
TrakRyder steering dampers are available to replace original equipment on most 4WD models.
---
TrakRyder eXtreme Adjustable 4×4 Suspension Series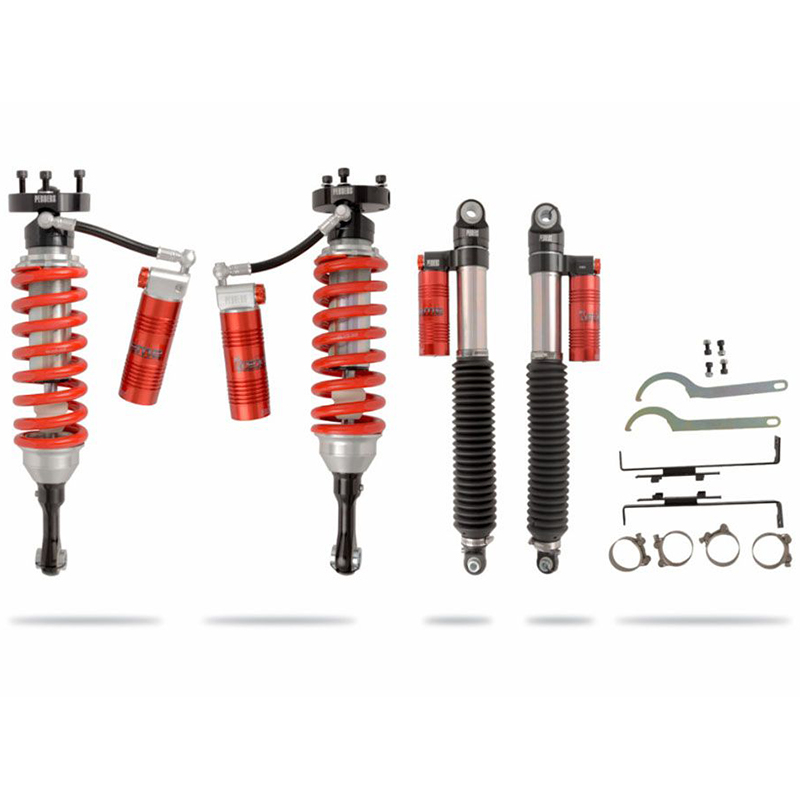 The Pedders TrakRyder eXtreme Adjustable Coilover has been designed to provide the best in suspension kits for the serious 4X4 enthusiast driver. With so many features the TrakRyder eXtreme range of coilovers is a must for those that want the best in handling for their Hilux, BT-50, Ranger, Colorado or D-Max.
The ride and handling performance can be tailored to suit your needs at the click of a button. Smooth on-road feel and eXtreme off-road handling performance is the key benefits of the adjustable coil-overs. Ideal in all types of driving conditions such as extreme off-road, general driving on roads, load-carrying & towing.
Each kit includes a set of 2 front adjustable coil-overs and 2 rear adjustable shock absorbers, fitting kit, and adjustment spanners.
---
Pedders Ezi Fit Suspension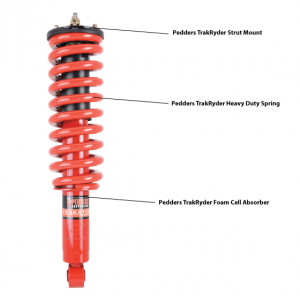 The Pedders EziFit range is supplied as a matched set of pre-assembled suspension components including a designated Pedders Shock Absorber, Pedders Heavy Duty Spring and Pedders Strut Mount.
Installation time is reduced as the components are supplied pre-assembled and ready for a direct bolt-on fitment saving time and money and eliminating the need for spring compressors and other specialized equipment.
With the internally designed "Bridged Ferrel" mounting bush, Pedders have created a mount that will endure the rigorous operational conditions placed on the mounting bush. A larger bonded surface area, used in conjunction with high quality rubber with the appropriate duro. The added advantage is the resistance of the bush "walking sideways" on the ferrule.
The casing has been designed to allow for increased pretension to occur when it is pressed into the shock absorber mount.
---
SportsRyder eXtreme Adjustable Coilover Series
For motorists who are after that extra level of performance and sports handling Pedders has a product range called SportsRyder. The SportsRyder shock range uses precise valve tuning and tailored nitrogen gas pressure for ultimate control without compromising on ride quality.
SportsRyder sealed struts and cartridges are high performance, heavy-duty replacement units that deliver a new standard of road-holding ability for today's hi-tech vehicles.
At the pinnacle of the SportsRyder range comes the eXtreme XA, a world class, height adjustable coil-over unit featuring 30 positions adjustable bump and rebound at the click of a button.