Since 1950 Pedders has been designing and manufacturing suspension products specifically for performance conditions to ensure your vehicle is always performing at its best. That's why at Pedders Suspension we're proud of our range of totally integrated suspension systems with our key range of brands like:
TrakRyder – Our range of premium upgrade parts to suite four wheel drive and SUV models
SportsRyder – Our range of premium upgrade parts to suit sports and performance vehicles.
Pedders – Our range of replacement parts to suit passenger vehicles.
Our TrakRyder range of products covers solutions for SUV and 4WD models whilst our SportsRyder range of products covers off solutions to suit high performance road vehicles. Also included in the range is our very own Pedders range of suspension parts to suit vehicle applications that require a boost in performance with the fitment of new aftermarket high quality component.
Our range of suspension kits are suitable for the following makes and models: Chevrolet Camaro, Pontiac G8, Holden Commodore, Toyota Hilux/Landcruiser/Prado/Fortuner/FT86, Ford Maverick/Ranger, Nissan Patrol, Jeep Wrangler/Cherokee, Land Rover Discovery, Ranger Rover, Subaru Liberty/Outback/Forester/Impreza/BRZ. We also offer coilover kits for a host of other models.
Included in our suspension kits are performance parts such as Coil Springs, Performance Dampers, Suspension Bushes. Additional to this comes our range of Pedders eXtreme XA fully adjustable coil-over kits for selected vehicles.
---
TrakRyder Touring (up to 1/2″ or 13mm lift)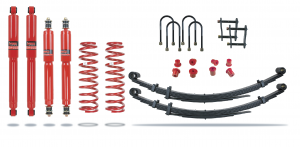 The spring and shock absorber rates were developed to provide ride quality, a reduction in body roll and improved stability.
This kit is primarily designed to return the vehicle's ride height to it's original specification (up to 0.5″/13mm lift) and to re-energise the suspension capabilities through the addition of new shock absorbers.
Compatibility:
For vehicles used primarily as a commuter vehicle with general use, such as to and from work or the occasional long distance road trip as well as the occasional off road travel. This kit is suitable for vehicles fitted with a nudge bar, driving lights and standard wheels and tyres. The kit will also increase the capability of carrying a slightly heavier load such as bike rack, sporting equipment and light weight towing.
---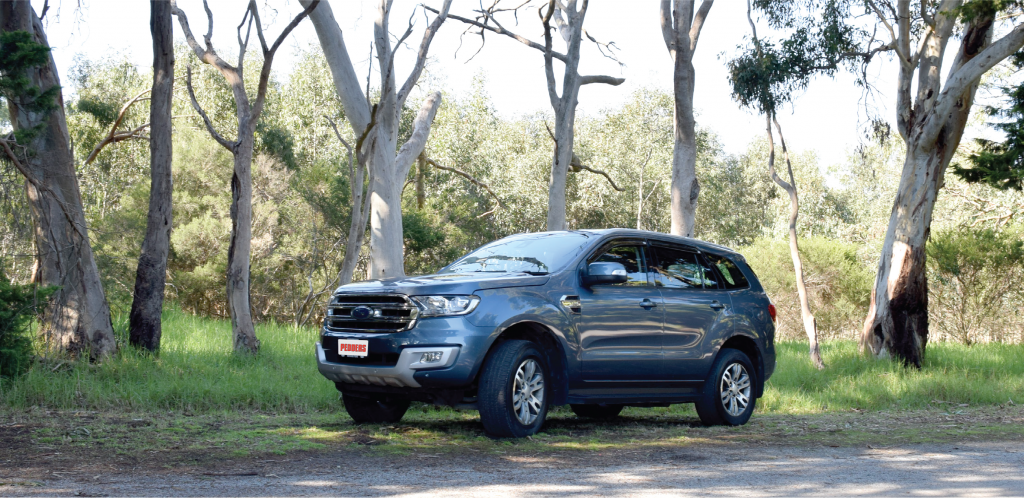 TrakRyder Expedition (up to 1″ or 25mm lift)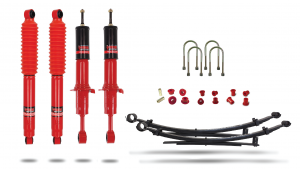 The spring and shock absorber rates were developed to provide an improved load carrying capacity, with the advantage of increasing the stability leading to less body roll, while at all times having consideration for the ride comfort. This kit is primarily designed to reinstate the ride height to as new with a minor enhance of up to 1" (25mm). The Expedition Kit will also improve the braking and steering of the vehicle when towing, in conjunction with correctly fitted and approved weight distribution equipment.
Compatibility:
For vehicles used primarily for towing and/or load carrying. Ideal for carrying heavy loads, towing horse floats or caravans, and weekend of fun in the bush. This kit would be suitable for vehicles fitted with a nudge bar and driving lights, standard wheels and tyres, and general equipment such as a fridge or tool box.
---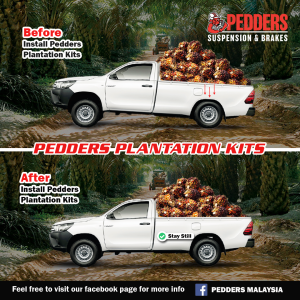 Plantation/Carry Weight Suspension Kit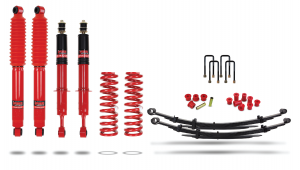 The spring and shock absorber were developed specially for agriculture industry that carry the fruit or vegetables in and out from their farm. This carry weight suspension kit is to ensure and give confident to the vehicle owner to feel safer in term of better handling, more stable while carrying weight and also extend the capability of the vehicle to carry extra weight without unstable issue.
Compatibility:
For vehicles that use for carry weight more than normal user do for example palm oil farmer or agriculture industry and for vehicle that always in and out from jungle using logging road condition bring heavy machines, tools and supply.
---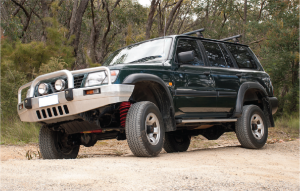 TrakRyder 4″ Lift Kits ( Landcruiser 80/105 series & Nissan Patrol Y60 (GQ) – Y61 (GU)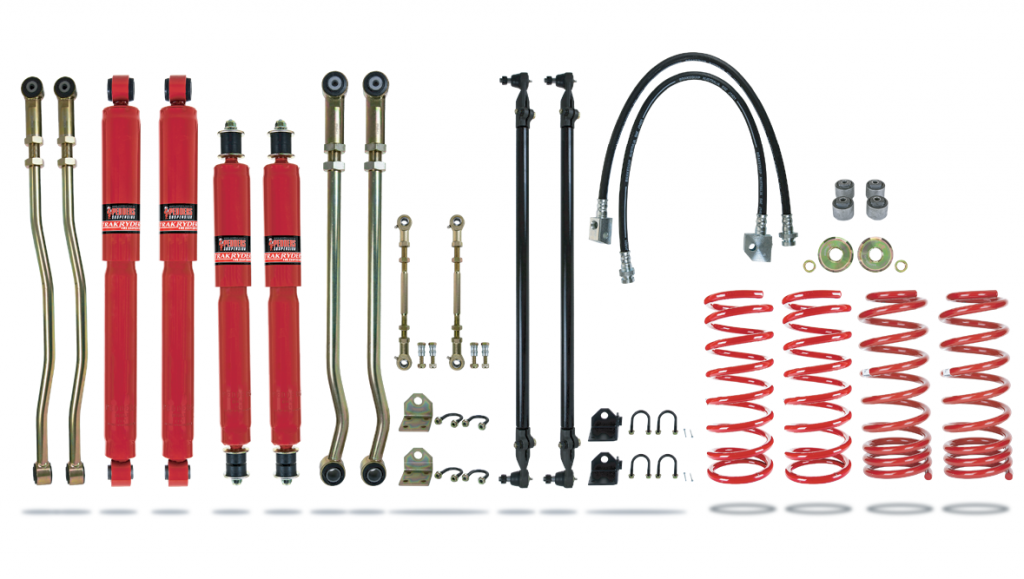 Looking for a complete 4″ lift kit for Toyota LandCruiser or Nissan Patrol then look no further, because Pedders has the solution for you.
Our 4″ lift kits are supplied with the following rough terrain compliant components:
TrakRyder Raised extra heavy duty coil springs
TrakRyder long travel foam cell shock absorbers
Sway bar links
Alignment products
Extended brake hoses plus assorted chassis parts
For the ABS models we also include the brake line as an extra component.
Note: Vehicles can be further improved with the fitment of heavy duty/longer trailing arms, drag links and heavy duty steering dampers. See in-store for further details.
Competition Use Only. Not for Road Registered Vehicles.