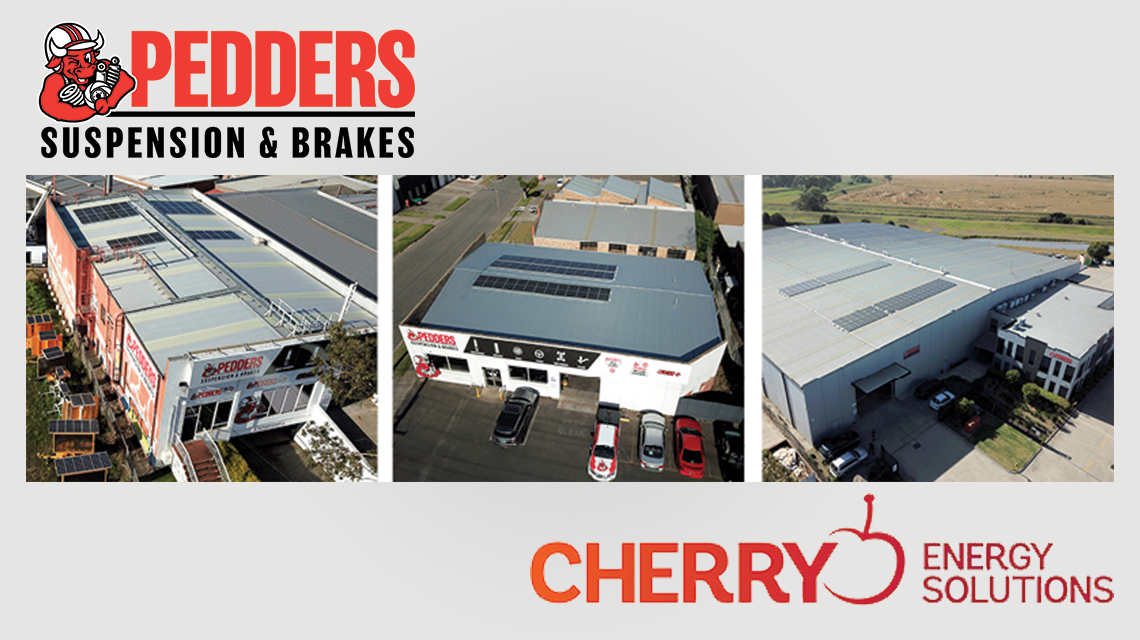 Pedders & Cherry Energy Solutions Flick The Switch On Solar!
In 2020 Pedders Suspension & Brakes teamed up with Cherry Energy Solutions to install solar PV panels across 5 key sites. The renewable energy project is the first of its kind for the Pedders group.
Every year, the solar systems installed across the 5 sites are expected to produce a total of 127,840 kilowatt hours of clean and reliable electricity- enough energy to power more than 14 homes or planting 2011 tree seedlings and growing them for 10 years. Pedders Suspension & Brakes is expected to offset its total energy consumption by up to 81% with 1 store already hitting 113% (making it 100% renewable!).
"After an exhaustive tender process, I'm pleased to announce that we have just flicked the switch on very first renewable energy project. In late 2020 we appointed Cherry Energy Solutions as our official provider of solar panels across five company owned store locations. The combined installations are expected to save the sites approximately $24,344 in total electricity costs annually." Adam Gillick Senior Executive of Brand & Marketing, said. "Not only are we grateful for the Pedder family's investment in our organisation and sustainable values, but we are ready to take this to the next level, supporting renewable energy across additional sites of the business."
The solar installations took place at these locations:
Pedders National Headquarters located at Letcon Drive Dandenong South.
Pedders NSW State Distribution Centre located at Campbelltown.
Pedders Queensland State Distribution Centre located at Lawnton.
Pedders Moorabbin store outlet located at Wren Rd Moorabbin.
Pedders Ferntree Gully store outlet located at Ferntree Road Ferntree Gully.
The renewable energy project, totalling 103.6kW of solar, was installed by Cherry Energy Solutions, a leading Australian commercial energy efficiency company who has installed over 50MW of solar and 1,000,000+ LED lights nationally.
Source: https://www.pedders.com.au/news/pedders-cherry-energy-solutions-flick-the-switch-on-solar/
G-JC1DCQWDH1